smart solutions & MOre !!
Kubernetes Development Solutions
Based on the open source Kubernetes system, Azure Kubernetes Service is a very important tool that users can find on the Microsoft Azure Public Cloud. It is a managed container orchestration service largely used for managing, scaling, and deploying Docker containers as well as container based applications. What makes AKS a must-have tool for every enterprise is the various benefits it provides such as ease of operations, faster shipping, and seamless scaling.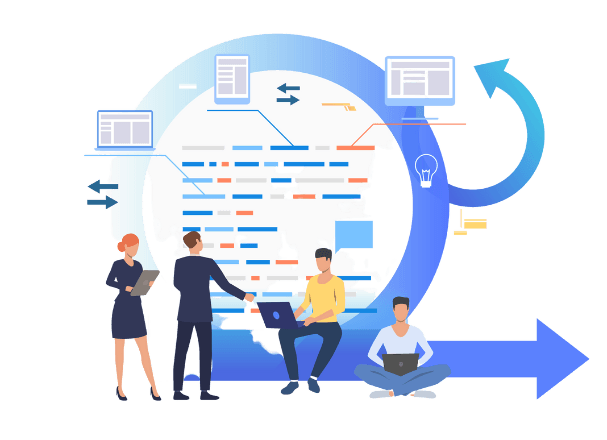 Smart Solutions & More !!
Choose Our Azure Services for Maximum Benefits
Container Orchestration
Our experts assist you in enhancing software development lifecycle with container orchestration using open-source Kubernetes and its vendor distributions.
CI/CD Enablement
Improve and automate your development lifecycle with CI/CD enablement through various powerful tools which include the likes of Concourse and Jenkins.
Application Replatforming
Obtain maximum results from your applications with software modernization. Tap into hidden architecture-driven benefits with the implementation.
Application Modernization
Enhance server maintenance, security, and cut costs with newer technologies, ensuring your applications always remain up to date for your customers.
Microservices Architecture
Reduce complexities in application systems through implementing microservice-based architecture and start efficient application management.
Custom API Development
We offer web API development services for mobile, desktop and cloud applications. You can trust us for projects on any browser, database, or operating system.
UI/UX Design
Build the product you need on time with an experienced team that uses a clear and effective design process.
Dedicated Team
Build the product you need on time with an experienced team that uses a clear and effective design process.
FAQs For Our Azure Kubernetes Services
What is your pricing model for Azure Kubernetes Services?
Pyzen has a fixed price model for all mobile and web development projects. According to our clients' demands, we can charge on an hourly or monthly basis as well.
How do you accept payments?
You can pay via Bank Transfer, PayPal, credit card, and MasterCard.
How much do you charge for AKS?
The pricing of each AKS project can be different depending on the complexity of the app. To know the exact price for your unique application, talk to us!
Do you provide the details of the developers involved in the project?
As a top app development company in India,we are happy to help you in case there is any issue in the project delivery. However, we do not share any developer's details before the beginning of any project.
How will you contact us?
Our backend team responds to clients demands and in case you have reached them for a service, you will be connected either via email, or a phone call.
How to Track my AKS Project Progress?
You can count on our Project Managers for daily reports regarding the progress of all your projects.