Searching for top-notch full-stack developers?
you get the best prices, experienced developers, and latest tools and technologies for optimum web development performance.
SMART SOLUTIONS & MORE!
FULL-STACK WEB DEVELOPMENT SERVICES
At Pyzen, our experts are adept at using Angular.js for creating dynamic web experiences that give a fresh and futuristic feel.
Our Python developers ensure you get the best solutions by using the scripting language's agility for server backends and dynamic web content.
Unlock maximum benefits for your applications with our exceptional Enterprise applications development services. 
Pyzen offers the best high-end web architecture development, performance tuning, and UI enhancement for reliable, robust solutions.
Take a Look into Our Full Stack Web Development Services
Front End Development
We have an in-house team of dedicated experts with experience in every front-end development language such as Mocha, Angular JS, React, and more.
Back End Development
We deliver with consistency as our back end developing team has knowledgeable developers who use the latest technologies and tools to streamline your success in the business.
API Development
Our board of esteemed developers assists you with implementing integrations and you get custom API development services when you outsource full-stack from Pyzen Technologies.
Framework Development
With the goal to support web services and web application development, we provide a software framework that is easy to use and contains all important features for your customers.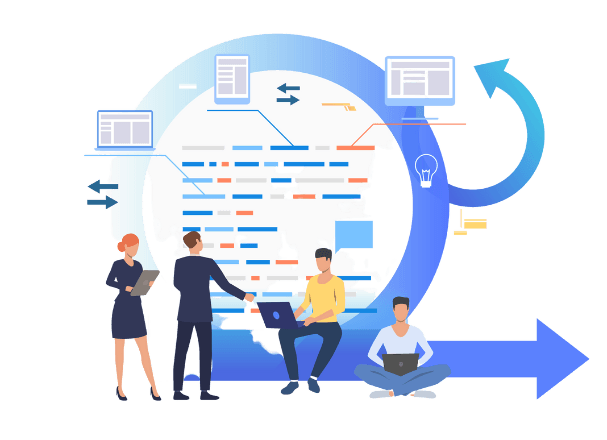 Why You Should Choose Pyzen Technologies for Full Stack Development
We never stop working until our clients are satisfied with the results, making us one of the best full stack web development companies in India. At Pyzen Technologies, we use only the latest tech and tools to give our clients the maximum benefits that we can. With a dedicated team of developers working day in and day out to achieve optimum results, we also ensure that all our web development services and solutions are of the best quality. When it comes to performing every time, on time, our developers are the best. We never miss a beat and work with concerns, prioritizing timely submissions over everything else.
// our clients
We are Trusted
30+ Brands Worldwide
Shitij
Owner Kwality Venture
"Deeply Satisfied by Pyzen Technologies Services. Their e-commerce and mobile application services are surely commendable! Would definitely rate them 5/5."
Yash Sharma
Owner, Gaefta
"I will without a doubt recommend the e-commerce solutions of Pyzen Technologies. Kudos to their amazing staff for the great work. I can proudly say your team will reach great heights!."
Vishnu Sharma
MD Diamond Retail Mart
"I needed some mobile application solutions urgently. I can confidently say Pyzen has provided top-notch services on time. Wish to associate with them again soon!."
What is Web development?
Web development is the process of creating software applications for mobile devices, such as smartphones and tablets. It involves the design, development, testing, and deployment of Web.
What are the different types of web development?
There are many different types of web development, but some of the most common include:
* Front-end development: Front-end development is the process of creating the user interface (UI) for a website. It includes HTML, CSS, and JavaScript.
* Back-end development: Back-end development is the process of creating the functionality for a website. It includes programming languages such as PHP, Python, and Java.
* Full-stack development: Full-stack development is the process of doing both front-end and back-end development.
* Mobile development: Mobile development is the process of creating and maintaining mobile apps.
* Web design: Web design is the process of creating the visual appearance of a website. It includes choosing colors, fonts, and layouts.
What are the steps involved in mobile app development?
1. Planning: This is the process of defining the goals of the website and creating a plan for how to achieve them.
2. Design: This is the process of creating the visual appearance of the website.
3. Development: This is the process of writing the code for the website.
4. Testing: This is the process of testing the website to ensure that it works as expected.
5. Deployment: This is the process of making the website available to users.
6. Maintenance: This is the process of updating and maintaining the website.
What is your price model ?
Pyzen has a fixed price model for all mobile and web development projects. According to our clients' demands, we can charge on an hourly or monthly basis as well.
How much does web development cost?
The cost of web development can vary depending on a number of factors, such as the complexity of the website, the features and functionality that it requires, and the experience of the development team. However, in general, web development can cost anywhere from a few thousand dollars to several hundred thousand dollars.
How will you contact us?
Our backend team responds to clients' demands and in case you have reached them for a service, you will be connected either via email, or a phone call.
Your vision, our expertise.
Let's make magic happen.
Let's talk about your project.
Contact us today to get started.